On December 12, U.S. President Elect Donald Trump took to Twitter to rail against Lockheed Martin for the perceived waste of its next-gen fighter jet program. In his tweet, Trump said:
The F-35 program and cost is out of control. Billions of dollars can and will be saved on military (and other) purchases after January 20th.

— Donald J. Trump (@realDonaldTrump) December 12, 2016
News of the tweet consumed CNBC and other news outlets for much of the day, and Lockheed's stock tumbled in the immediate aftermath of the comments before rallying to close down 2.5% on the day.

Trump's comments on the program's cost were made within the context of the government spending that his campaign promised to curtail, and as a heavy government supplier, Lockheed was an expected target. In fact, using FactSet's Supply Chain data we can see that Lockheed receives a whopping 78% of its revenue from the U.S. government.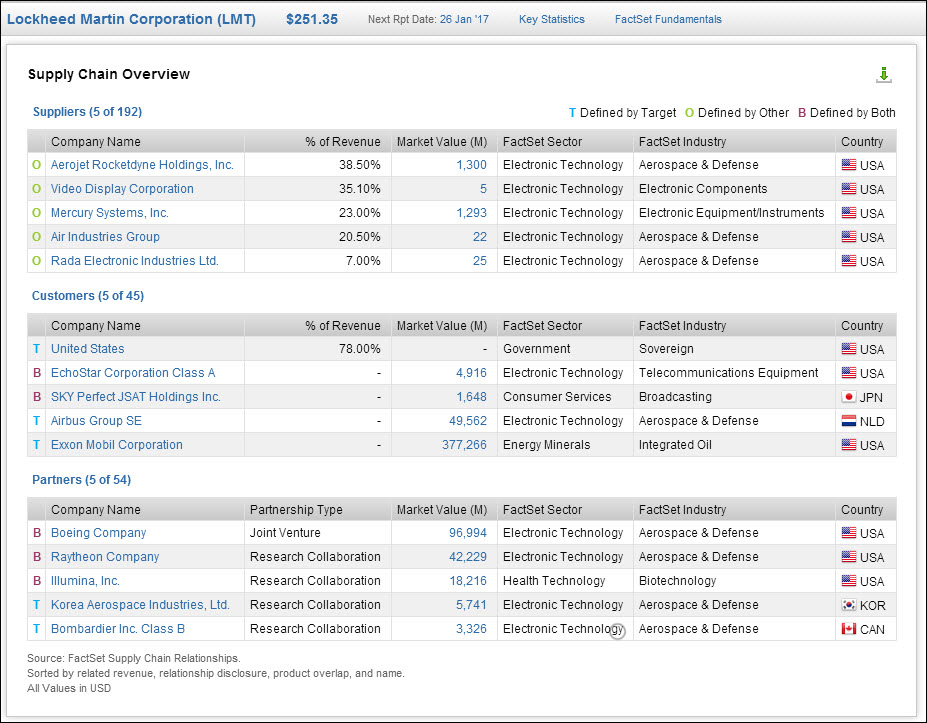 Which Targets Might Be Next?
Given Trump's predilection to delivering his thoughts directly to his followers and his promises to curb government waste, the Lockheed Martin tweets could be foreshadowing of a larger pattern of Trump-induced market reactions. To predict what other stocks could be the subject of Trump's tweets moving forward, we found those that count the U.S. Government as their largest customers.
Using FactSet's Revere data, we can see there are quite a few companies with huge exposures to the U.S. government; in fact, 27 companies attribute more than 80% of their revenue to the federal government. A further 250 companies generate a portion of their revenue from the U.S. Government. In addition, searching relationships data uncovers at least 35 companies with some level of connection to the F-35 program Trump mentioned.
Looking at the motivations that prompted Trump's tweets about Lockheed, companies that could be targeted by the President-elect's Twitter-based market shocks would likely be others in the aerospace or defense industry with a lion's share of their revenues coming from government contracts. Mantech International Corp, Booz Allen Hamilton Holding Corp, Huntington Ingalls Industries Inc., and KEYW Holding Corp are all defense companies that derive over 90% of revenue from government sales and programs. That being said, it's important to note that Trump's comments were prompted by a specific program, rather than the percentage of revenue Lockheed Martin receives from the U.S. government.
Despite the obvious connection between government spending and the Aerospace & Defense industries, many of the organizations identified were not part of military program spending. Healthcare was another common area of government spending. Of the eight companies that generate 100% of their revenues from the government, seven are healthcare. 
While no companies are necessarily safe from the unabated feedback of a socially connected world, with an agenda that seeks to trim that fat from government spending and a digital pulpit at his disposal, this is unlikely to be the last time Trump moves the market in under 140 characters.
Courtesy of Factset