This U.S. earnings season is on track to be the worst since 2009 as profits from oil & gas and commodity-related companies plummet leaving many to wonder, is the worst behind us or is there more to come?  Is China's growth story over or taking a 'rest'?  We've lived on ghost cities creating demand for so many years; where is the next growth story?
So far, about three-quarters of the S&P 500 have reported results, with profits down 3.1 percent on a share-weighted basis, data compiled by Bloomberg shows. This would be the biggest quarterly drop in earnings since the third quarter 2009, and the second straight quarter of profit declines. Earnings growth turned negative for the first time in six years in the second quarter this year.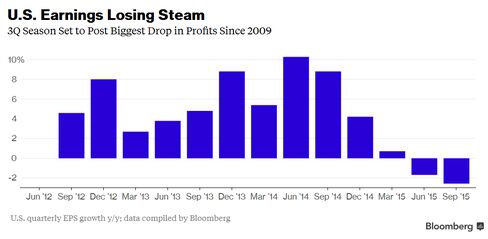 The damage is the biggest in commodity-related industries, with the energy sector showing a 54 percent drop in quarterly earnings per share so far in the quarter, with profits in the materials sector falling 15 percent.
The picture is brighter for the telecom services and consumer discretionary sectors, with EPS growth of 23 percent and 19 percent respectively so far this quarter.
When compared with analyst expectations, about 72 percent of companies have beaten profit forecasts. That's only because the consensus has been sharply cut in the past few months, Jeanne Asseraf-Bitton, head of global cross-asset research at Lyxor Asset Management says in a telephone interview.
For the year as a whole, S&P 500 earnings are expected to fall 0.5 percent, data compiled by Bloomberg shows. For 2016, earnings growth is now seen at 7.9 percent, down from 10.9 percent in late July.
Next year's consensus is "still very optimistic," Asseraf-Bitton says, citing the lack of positive catalyst seen for U.S. stocks in 2016 as well as the negative impact from the sharp slowdown in the U.S. energy sector.
By contrast, the euro-zone is the only region worldwide where earnings are expected to "grow significantly" in 2015, according to a note from Societe Generale Head of European Equity Strategy Roland Kaloyan.
Euro Stoxx 50 earnings are expected to rise 10 percent in 2015 and 5.7 percent in 2016, data compiled by Bloomberg shows.
Courtesy of Bloomberg